Like PNR status, pnr enquiry:

*

railway PNR status.

*

Railway passengers often confuse with different symbols shown as part of their pnr status.Here is the description for various symbols:
LEGENDS
Symbol
Description
CAN / MOD
Cancelled or Modified Passenger
CNF / Confirmed
Confirmed (Coach/Berth number will be available after chart preparation)
CK
Tatkal Quota
CKWL
Tatkal Waiting List


The difference between normal waiting list and CKWL is that when the normal waiting list moves up it goes to RAC category whereas CKWL means when the waiting list moves up you can expect confirmed berth.

RAC
Reservation Against Cancellation
WL #
Waiting List Number
RLWL
Remote Location Wait List
GNWL
General Wait List
PQWL
Pooled Quota Wait List
REGRET/WL
No More Booking Permitted
RELEASED
Ticket Not Cancelled but Alternative Accommodation Provided
R# #
RAC Coach Number Berth Number


Example :RS7 51 means You are in RAC(Reservation against Cancellation) and Coach number S7 and Berth-51. Same berth will be alloted to two RAC passeners and they need to share it.
Railway News :
South Central Railway :
10-01-2012: 6 Special Trains for Pongal between Kakinada Town and Secunderabad & Secunderabad and Narsapur on 12,15,16,17th Jan 2012.
04-01-2012: SCR to run 14 Special Trains(From 12th - 17th Jan 2012) between Secunderabad & KakinadaTown and Secunderabad & Vijayawada during Sankranthi festival season.
SCR Extends Special Trains Between Hyderabad and Ajmer & Hyderabad and Kolhapur.
South Central Railway to Extend Special Trains Between Adilabad and Nanded upto 31st January, 2012.
Southern Railways:
11-10-2012: SPECIAL TRAINS FOR PONGAL FESTIVAL Between Chennai Central – Coimbatore – Nagercoil.
10-01-2012:T.No.15929 Chennai Egmore – Dibrugarh Weekly Express scheduled to leave Chennai Egmore at 22.30 hrs. on 12.01.2012 is rescheduled to 00.05 hrs. on 13.01.2012 due to late running.
05-01-2012: PONGAL SPECIAL TRAINS : Southern Railways

1) Chennai Central – Nagercoil Special on 13th Jan 2012.
2) Nagercoil – Chennai Central Superfast Special on 17th Jan 2012.
3) Chennai Central – Nagercoil – Chennai Central Superfa on 14th & 16th Jan 2012.
4) Coimbatore – Chennai Central – Coimbatore Superfast on 14th & 17th Jan 2012.

Central Railway :
10-01-2012: Special Train from Sahrasha - Patna - Sahrasha on 11,13,14 and 16 Jan 2012.
04-01-2012: Extension of Shri Chhatrapati Shahu Maharaj Terminus (Kolhapur)-Hyderabad Special Train - Bookings open for 07144 from 4.1.2012.
QMUW67AA7CZ6
Northern Railways:
10-01-2012:Special trains between Mumbai central- Ahmedabad extended till Feb, 2012.
10-01-2012: One Additional A.C. 3 Tier coach in Howrah-New Delhi-Howrah Rajdhani Express till 21st Jan 2012.
05-01-2012: SPECIAL TRAIN ON KALCHAKRA PUJA
04-01-2012: TEMPORARY STOPPAGE AT SAKOTI TANDA STATION

Occasion based(Festival days) stoppage at SAKOTI TANDA STATION for trains Shalimar Express and Jalandhar City - New Delhi intercity EXpress.
Low cost Insurance or Life insurance for Railway(irctc) Passengers:
Indian Railways provides free insurance to the passengers. In case of death railways pays Rs. 4 Lakhs and in case of injury the minimum amount is Rs. 32000/- and maximum can be Rs. 4 Lakhs depending upon the severity.
On the accident spot railway pays ex-gratia amount Rs. 15000/- to the dependents of the dead passenger and Rs. 5000/- to the injured and Rs. 500/- less injured passengers for immediate needs.
The insurance not only covers the travelling passenger, it covers the person who came to receive someone with valid platform ticket. If you have a valid platform or travel ticket and you get insured or dead because of any terror or due to railway negligence, you are covered under insurance. It is not just like your car insurance or motor vehicle insurance. Railway Claim Tribunal will decide the amount you are liable for insurance depends upon severity.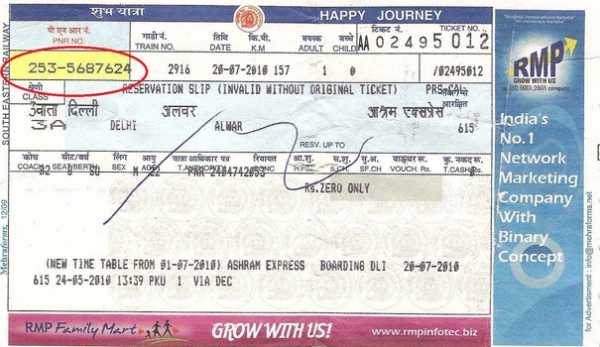 railway pnr status questions and answers.
Where can I find the PNR number ?
How to check pnr status
How can I find irctc PNR status ? or pnr enquiry or irctc pnr status
How to get a PNR number? Where PNR Number is printed on an Train Ticket ?
How can I find status of my train ticket through website, if details have changed ?
I want to know my pnr status in railway reservation ?
Pnr Status | irctc pnr status | Railway Pnr Status | Pnr Status Enquiry - i need best website all in one ?
Answer is very simple if you have a look at the above train ticket. The red circled number is the PNR number which you can find it on top left conrner of your indian railways train ticket. Copy the same and visit http://www.pnrstatuscheck.in for updated PNR staus.
Indian Railway Passenger reservation Enquiry
We are planning to start PNR status on demand through mobile SMS.You have nothing to do, just give your mobile number along with PNR number, within seconds we will message you your current PNR status.
Passenger Name Record (PNR) is the travel record used by airline and travel agency databases. The same technique( PNR status) is introduced in Indian Railways to track the passenger travel details. PNR is a unique ten digit number printed on the top left hand corner of your ticket, in case you want to travel by reserved accomodation, which has to be quoted in order to know the status of your ticket. You can use this 10 digit number to track the progress of your booking. Basically, this is your ticket number which acts as the primary reference.Railway PNR status provides complete travel booking status.
PNR has five parts that are essential in order to get a booking done. The five parts or requisites of status PNR number are as follows.
Passenger(s) Name.
Travel Agent's Contact Details.
Details of Ticket (could be a ticket number or ticketing time limit).
Itinerary as a minimum of one segment that should be similar for all passengers listed.
Person's Name, who makes the booking.
After the completion of requirements, the CRS issues a unique alpha-numeric record locator(helps to find railway pnr status or pnr status of railways) that remains same in spite of any extra changes made.
Once the booking has been completed, the CRS system will issue a unique alpha-numeric record locator(pnr status in railways), which will remain the same regardless of any further changes made (An exception is made if a multiple person PNR is split, with passengers cancelling or changing to a different itinerary).
When a passenger books an itinerary, the travel agent or travel website user will create a PNR in the Computer Reservation System it uses. This is typically one of the large Global Distribution Systems, such as Amadeus, Sabre, Worldspan or Galileo, but if the booking is made directly with an airline the PNR can also be in the database of the airline's CRS. This PNR is called the Master PNR for the passenger and the associated itinerary. The PNR is identified in the particular database by a record locator.
When portions of the travel are not provided by the holder of the Master PNR, then copies of the PNR information are sent to the CRSes of the airlines that will be providing transportation. These CRSes will open copies of the original PNR in their own database to manage the portion of the itinerary for which they are responsible. Many airlines have their CRS hosted by one of the GDSes, which allows sharing of the PNR.
The record locators of the copied PNRs are communicated back to the CRS that owns the Master PNR, so all records remain tied together. This allows exchanging updates of the PNR when the status of trip changes in any of the CRSes.
Although PNRs were originally introduced for air travel, they are now also being used for bookings of hotels, car rental, railways, etc.
Parts of PNR(PNR Status for railways):
From a technical point, there are five parts of a PNR required before the booking can be completed. They are:
The name of the passenger(s) used for rail PNR status.
Contact details for the travel agent or airline office. (The minimum contact information enforced by CRS policy is typically the 8-digit IATA code of the travel agency or airline office, although there is usually at least one phone number as well, most often the agency phone number. Direct customer contact information is rarely required.)
Ticketing details, either a ticket number or a ticketing time limit.
Itinerary of at least one segment, which must be the same for all passengers listed.
Name of the person providing the information. (This is usually entered in a "received from" field and recorded in the "history" or change log attached to the PNR, along with the user and office or agency ID of the airline or travel agency employee creating the PNR or entering the change. The "history" records the "received from" data separately for the initial creation of the PNR and for each subsequent change to it.)
Once the booking has been completed to this level, the CRS will issue a unique alpha-numeric record locator, which will remain the same regardless of any further changes made (except if a multi-person PNR is split). Each airline will create their own booking record with a unique record locator, which, depending on service level agreement between the CRS and the airline(s) involved, will be transmitted to the CRS and stored in the booking.
A considerable amount of other information is often desired by both the airlines and the travel agent to ensure efficient travel. This includes:
Fare details, and any restrictions that may apply to the ticket.
The form of payment used, as this will usually restrict any refund if the ticket is not used.
Further contact details, such as agency phone number and address, additional phone contact numbers at passenger address and intended destination.
Age details if it is relevant to the travel, e.g., unaccompanied children or elderly passengers requiring assistance. ** this must be added at the time the name is stored during step one above***
Frequent flyer data.
"Special Service Requests" (SSR) such as special meal requirements, seating preferences, wheelchairs, and other similar requests.
"Optional Services instruction" (OSI), information sent to a specific airline, or all airlines in the booking, which enables them to better provide a service. This information can include ticket numbers, local contacts details (the phone section is limited to only a few entries), and other details such as a passenger's language or details of a disability.
Vendor Remarks. VRs are comments made by the airline, typically generated automatically once the booking or request is completed. These will normally include the airline's own record locator, replies to special requests, and advice on ticketing time limits. While normally sent by the airlines to an agent, it is also possible for an agent to send a VR to an airline.
some of the popular words for PNR status are pnr irctc status ,pnr status in irctc,pnr status for irctc,irctc pnr status,pnr status irctc,pnr indian railway.
In more recent times, many governments now require the airline to provide further information included to assist investigators tracing criminals or terrorists. These include:
Passengers' gender which is used to trace train pnr status.
Passport details- nationality, number, and date of expiry.
Date and place of birth.
WatchList exclusion number
Privacy Concerns:
Some privacy organizations are concerned at the amount of personal data that a PNR might contain. While the minimum data for completing a booking is quite small, a PNR will typically contain much more information of a sensitive nature. This will include the passenger's full name, date of birth, home and work address, telephone number, e-mail address, credit card details, IP address if booked online, as well as the names and personal information of emergency contacts.
Tatkal Ticket:
Tatkal E-tickets can be booked one day in advance excluding the date of journey from the train originating station. It can be booked on the opening day from 10.00 AM onwards. e .g. if train is to depart from originating station on 2nd January, Tatkal Booking will Commence at 10.00 AM on 1st January.
The provision for specifying ID proof at the time of booking a Tatkal e-ticket has been started from 21-11-2011. For booking Tatkal e-tickets, each of the passengers (mandatory for at least one passenger) can enter his/her ID proof type and number against his/her name in reservation form, which is to be used for travel. These details will be printed on the ERS/VRM as well as in the reservation chart.
During the journey, at least one passenger, whose identity card number has been indicated on the ticket, will have to produce original proof of identity indicated on the ticket, failing which all the passengers booked on the ticket shall be treated as travelling without ticket and charged accordingly.
Tatkal Booking facility provides Confirmed / Waitlisted tickets (for E-Tickets only) against Tatkal quota, in any class except 1 AC, for journey between source/remote stations having Tatkal Quota to destination.
Tatkal I-Tickets cannot be booked. Only Tatkal E-Tickets can be booked.
Maximum four passengers per PNR can be booked on Tatkal e-ticket.
Tatkal charges per passenger in addition to normal ticket.
The Tatkal Charges have been fixed as a percentage of fare at the rate of 10% of basic fare for second class and 30% of basic fare for all other classes subject to minimum and maximum as given in the table below:-
| | | |
| --- | --- | --- |
| Class of Travel | Minimum Tatkal Charges (in Rs.) | Maximum Tatkal Charges (in Rs.) |
| Second (sitting) | 10 | 15 |
| Sleeper | 75 | 150 |
| AC Chair Car | 75 | 150 |
| AC 3 Tier | 200 | 300 |
| AC 2 Tier | 200 | 300 |
| Executive | 200 | 300 |
The above charges will be levied uniformly both in peak period & non-peak periods.
On Cancellation - No refund will be granted on cancellation of confirmed Tatkal tickets. For contingent cancellation & waitlisted Tatkal ticket cancellations, charges will be deducted as per existing Railway rules.
Partial cancellation of Tatkal e-tickets is allowed but at least one passenger with ID card printed on ERS/VRM should not be cancelled. On cancellation of all the passengers whose ID card details is printed on ERS/VRM, all the passengers on that e-ticket will be cancelled.
Join PNR Status Check Community
pnrstatuscheck.in is the best website for checking PNR Status.Join us by clicking on Like button, so that your friends can find the website easily. Be the first of your friends.
| | |
| --- | --- |
| Recommend us on Google Plus : | |

del.icio.us!

digg!

reddit!

technorati!

yahoo!