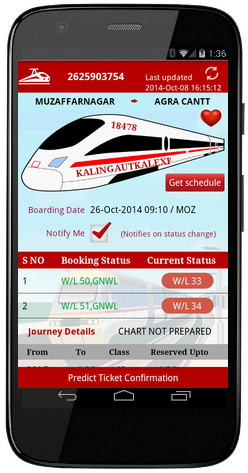 PNR Status App - Indian Rail App
Version 1.0.6
PNR Status Android App helps Indian Railway passengers to keep track of their travel PNR numbers and give PNR Status change alerts. IRCTC PNR App predicts your ticket confirmation chances.
PNR Status Change Alerts - No need to check your pnr status again & again.
PNR Prediction - Predict your ticket confirmation and berth confirmation.
PNR History - No need to remember your PNR number
Train Schedule - You can check your train schedule offline.
Works Offline - Remembers your train schedule and PNR Status Offline.
PNR Status Mobile App Description:
Indian Railway PNR Status Check along with Notification on IRCTC PNR Status Change
- No Internet Required : PNR Status available in Offline.
- PNR Number List : No need to remember your PNR Number, Keep track of your journey details.
- Status Change Notifications : No need to check the status again & again.
- Predict Berth Confirmation : Are you in W/L, Don't worry will predict your berth confirmation chances.
- Station Alarm : Have good sleep until you reach your destination, we will wake you up(coming soon).
- Light Weight and No Permissions Required.
Google play pnr App - keep track of your pnr status changes and predict your berth confirmation.
Download PNR Status Android App
This is not an official Indian rail pnr status mobile app, created by pnr commuters